The Art of Choosing A Luxury Dining Table: Why Settle For Less? – The dining room is often regarded as the heart of a home, a space where culinary delights are shared and memories are created. And at the center of this revered space lies the focal point: the dining table. When it comes to cultivating a luxurious dining room, every element counts, especially the choice between a round or rectangular table, the allure of marble finishes or golden accents, and the significant role a dining table plays in creating an opulent atmosphere. And, because there's no need to settle for anything less than the best, Dining Room Ideas will leave you with some options!
---
SEE ALSO: 5 Statement Dining Tables That Embody Sophistication
---
The Art of Choosing A Luxury Dining Table
Why Settle For Less?
Elegance in Shape: Round or Rectangular?
The shape of a dining table holds significant sway over the room's ambiance. The choice between a round or rectangular table is not merely about personal preference; it can define the entire space's character.
Round tables, with their absence of sharp corners, often foster a sense of intimacy and inclusivity. They are ideal for fostering conversations, as they allow everyone to see each other without obstructed views. A luxury round dining table exudes a sense of unity and cohesion, making it an excellent choice for smaller spaces or rooms where a cozier, convivial atmosphere is desired.
On the other hand, rectangular tables bring a touch of grandeur and formality to a room. Their elongated design often complements larger spaces and can be a bold statement piece. They're perfect for hosting grand dinners or for creating a sense of structure and symmetry in a room.
EDITOR'S CHOICE
Algerone Rectangular Dining Table & Algerone Outdoor Dining Table
Luxurious Finishes: Marble or Golden Accents?
The choice of finishes speaks volumes about the sophistication of a dining table. Marble finishes and golden accents are quintessential elements of luxury.
Marble, with its timeless elegance and natural allure, can instantly elevate the ambiance of a dining room. Whether it's a Carrara, Statuario, or Nero Marquina finish, the exquisite veining and luxurious texture of marble exude opulence. A marble dining table, with its smooth surface and unique patterns, adds an element of sophistication and prestige to the space.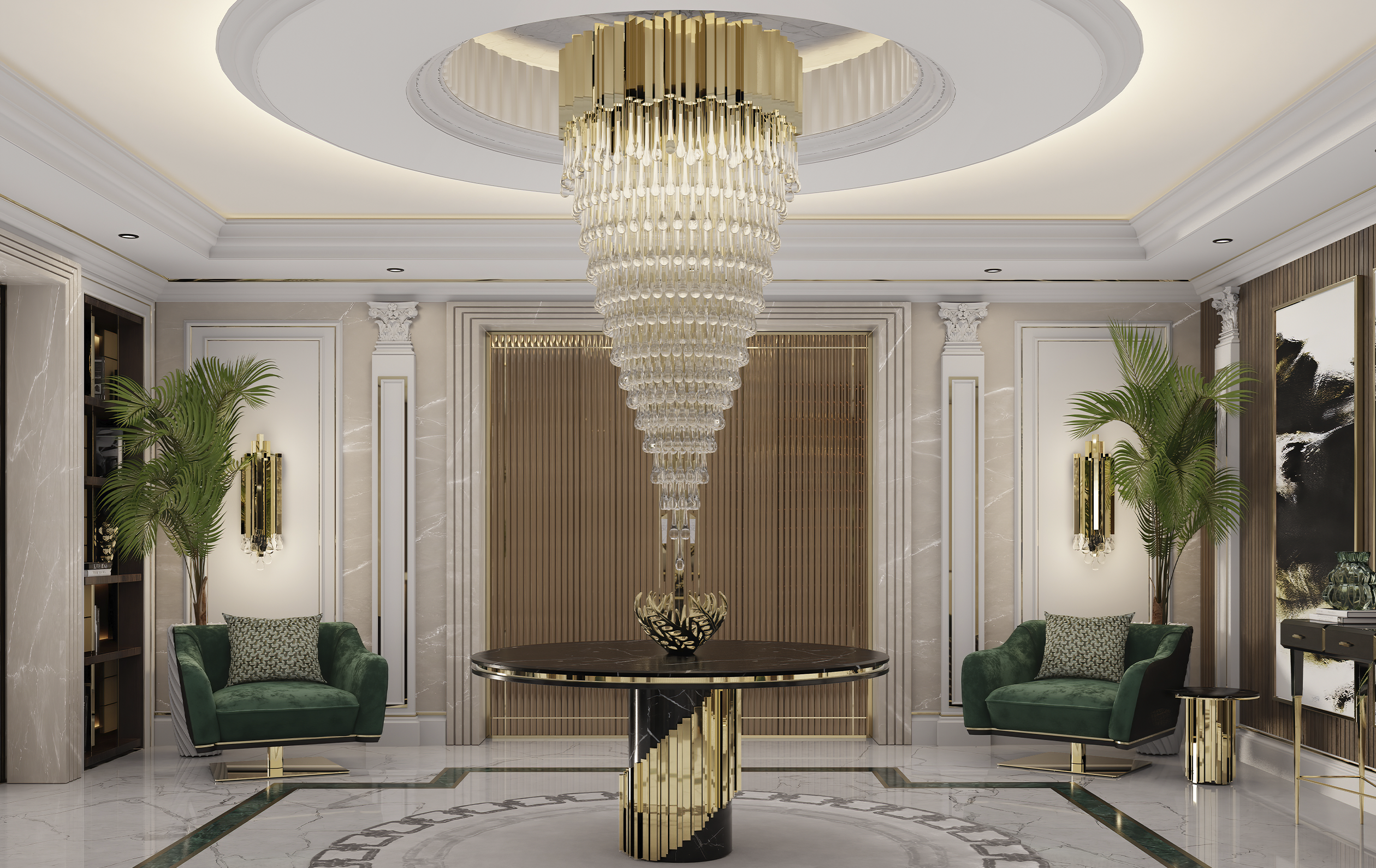 Golden accents, on the other hand, bring a lavish and extravagant touch to a dining table. Whether it's gilded table legs, intricate detailing, or gold leaf embellishments, these accents radiate luxury and add a sense of richness to the overall aesthetic. The warm, reflective nature of gold infuses a sense of glamour and decadence into the dining room.
EDITOR'S CHOICE
Vertigo Dining Table + Littus Dining Table
The Role of a Dining Table in Luxury Dining Room Assemblage
A dining table plays a pivotal role in creating a luxurious dining room atmosphere. It serves not only as a functional piece but as a statement of style and elegance. The chosen table acts as the centerpiece, anchoring the room's design while setting the tone for the entire space.
It's not merely about dining; it's about creating an experience. A luxury dining table sets the stage for refined gatherings, making a bold impression on guests, and amplifying the overall visual appeal of the room. It dictates the flow of conversation, the atmosphere, and the overall ambiance, becoming the gravitational center of the room's design.
---
Whether it's the choice between a round or rectangular table, the allure of marble finishes or golden accents, or the overall role it plays in the assemblage of a luxurious dining room, the dining table stands as a fundamental piece that embodies elegance, sophistication, and the epitome of luxury. The careful selection of its design and features can transform an ordinary dining space into an opulent sanctuary, where every meal becomes an experience and every gathering an occasion to remember.
---
SEE ALSO: Luxury Power Chandeliers For Dining Atmospheres
---
When the best is an option, why settle for less? The Art of Choosing A Luxury Dining Table compiles everything you have to know to achieve that outcome. For more amazing content regarding Dining Room Ideas, feel free to browse through our archives!