Inspiration: Fabulous Dining Room Ideas
When searching for inspiration for your new dining room, it may be a good idea to select a particular theme that you would like to go with, rather than simply purchasing random chairs, tables, accessories, etc. that don't match or go well together in terms of style or colors.
A traditional style and classic option in the interior design world is to select primarily wood. It has been used for centuries, both in high-end and economical households. This type of wooden furniture is especially fitting for rooms with high ceilings; it gives a castle-like feel, or if the goal is to achieve either a traditional vintage look or a dining room with a Gothic style originating from the European Middle Ages. Deep curved lines, engraved details and a variety of textures. Classic! This style typically has a darker wood color but if it suits your home better, choose lighter wood if you think the room as a whole feels too dark.
A wooden style dining room can also be modern instead of this traditional.
Red or a wine red color, for the carpet, for example, usually goes well with a style that has wood if you wish to achieve an old fashioned look. You just need a glass of red vine on the table next to some traditional tableware and the dining room is complete.
Now, switching over to brighter designs. The colors white and gold together always looks extra glamorous, as white represents purity, cleanliness, and elegance, at least in Western cultures, and there is something grandeur and royal about gold as it is associated with wealth and high status. Styles like these will brighten your dining area and it will seem more spacious.
See also: Why the dining room is the most important room in your home
Up next we have sharp edges and corners, fine straight lines, glass and metal, a breathable environment. These characteristics make for a modern sleek style. There are benefits to having a glass dining table: no permanent stains as it's easy to wipe clean with a wet cloth, and with a thin transparent surface, the dining room appears slightly larger and spacious as there are no thick chunky parts and pieces.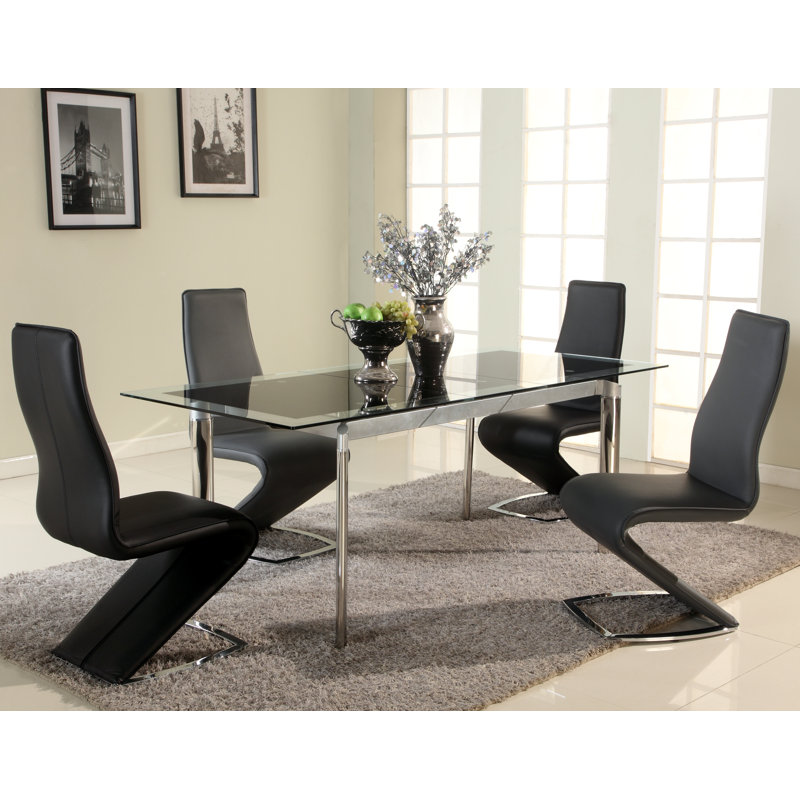 Regardless of where you find your inspiration and what style you choose to go with, a fireplace is always a good bet to create a cozy, warm, and pleasant environment, this goes for the dining room as well as other rooms of the home. A fire, artificial or natural, takes us back to the times where us humans, for thousands of years, used to eat around the fire. Even today, despite modern day technology, many seek out camping in the wilderness and eating meals next to a fire. There's just something about it that we love, and there is a reason for that. So why not bring some of that warmth, romance, and beautiful energy that makes the room come alive, into your dining room?
See also: Tips for dining rooms that you have not considered
Are you going with a particular style? What ideas have formed after this read?